Gender Equity Movement in Schools (GEMS) for Boys
GEMS for Boys engages boys studying in classes VI-VIII through classroom-based activities to enable them to understand harmful effects of masculinities, challenge in equitable gender norms and improve  gender attitudes and behaviors. The program aims to create spaces in schools where boys can talk about issues and pressures that they face during adolescence; and build capacity of teachers to take boys through a journey of critical self-reflection on the effects of conforming to harmful attitudes associated with the gendered notion of being an "ideal and real man", and learn gender equitable behaviors.
With support from the Children Investment Fund Foundation (CIFF), the International Center for Research on Women (ICRW) is implementing the  program in 400 schools across Udaipur and Sirohi districts in partnership with the  Department of Education, Samagra Shiksha Abhiyaan (SMSA), Government of  Rajasthan (GoR).
ICRW is collaborating with Jatan Sansthan and Vikalp Sansthan in Udaipur,  and Doosra Dashak and Society for All Round Development (SARD) in Sirohi to implement  and monitor the program. The GEMS for Boys program is also supporting the GoR in building pool of gender trainers. GEMS for Boys supplements the SMSA in working toward the goals enshrined under the Right to Education Act, specifically of a "violence-free and inclusive e learning environment in schools" and the Sustainable Development Goal 5 on Gender Equality.
With this, Rajasthan becomes the first state in India to initiate a program in government schools  to engage adolescent boys to promote gender equality and prevent gender-based violence.
GEMS Legacy
The GEMS program was designed and first tested between 2008-2011 in Mumbai,Maharashtra municipal schools to improve attitudes and behaviors of girls and boyson gender equality and reduce gender-based violence. Since then, GEMS has been adaptedand implemented in around 25,000 schools in multiple sites across Asia, includingMaharashtra, Bihar and Jharkhand in India, Bangladesh, Vietnam and Philippines reachingaround 2.5 million students.
Expected Outcomes
GEMS for Boys aims to achieve following outcomes at the institution, schooland individual (students and teachers) levels, which will be measured through arobust third-party evaluation using quantitative and qualitative study design.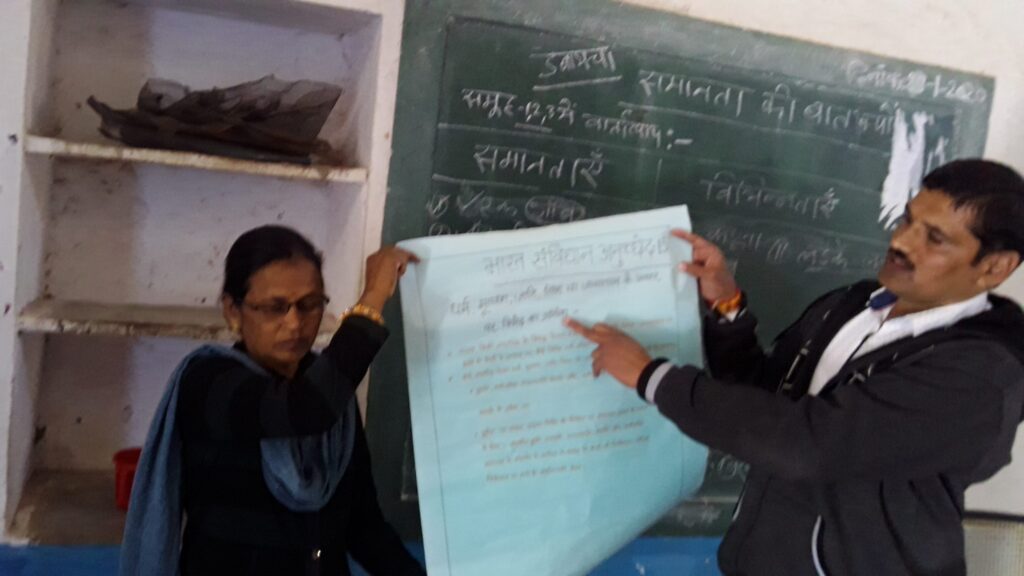 Institutional (School Education) Level
Tested scalable school-based model contextualized to Rajasthan and  successful in promoting gender-equitable attitudes and behaviors among boys
Pool of master trainers and teachers equipped with perspective and skills to  enhance gender-equitable behavior through use innovative participatory teaching and  learning techniques
Structured content and resource material on issues like gender discrimination,  power, masculinities, substance abuse, gender-based violence, consent and dignity  in relationships, life skills, etc. This shall include modules for classroom activities,  workshop activity guides, audio-visual material and campaign guides
Outcomes at School Level
Increase in number of schools that follow ender equity guidelines
 Increased communication of boys with peers (both girls and boys) and with  teachers on critical issues of gender equity, SRHR, gender-based violence, etc.
Outcomes at Individual Level
Positive shift in gender attitudes and behavior of adolescent boys and girls
Positive shifting gender attitudes of teachers, and enhanced  skills in innovative and participatory teaching and learning techniques for promoting gender equality and positive  methods of disciplining
Engaging 15,000 girls of classes VI, VII and VIII along with boys  through monthly mixed group workshops
Engaging 40,000 boys and girls through student-led school-wide campaigns
Creating a cadre of 800 teachers equipped with  perspective, skills and resources to promote gender- equitable attitudes
Creating structured content for classroom activities, workshops and campaigns
ngaging 20,000 boys of classes VI, VII and VIII in 400 schools through teacher-led fortnightly classroom activities
 Creating a resource pool of 55 gender master trainers at the level of Rajasthan SCERT and DIETs