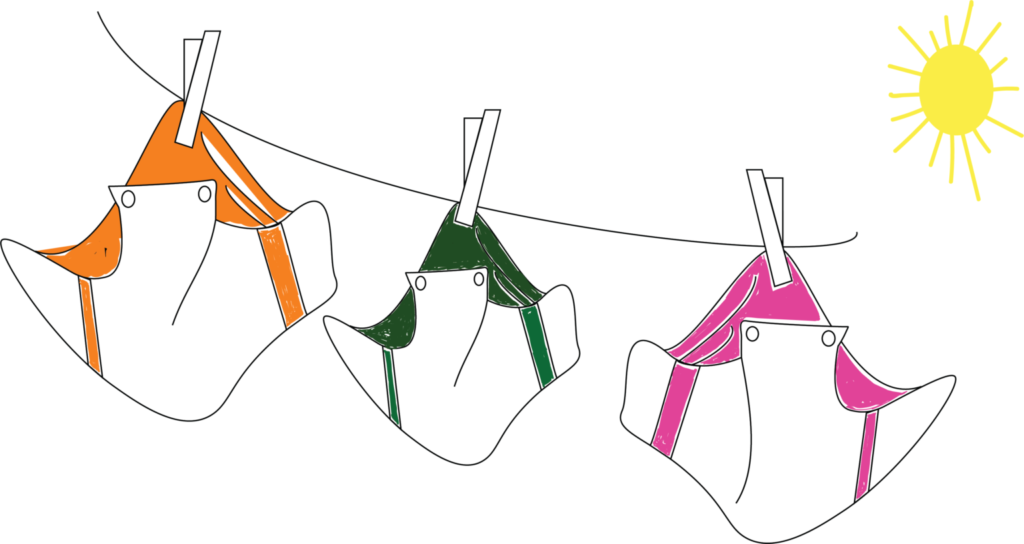 Uger pads are of two parts, the holder and the insert napkin
All fabrics used is cotton and bio degradable.

Holder can be washed and reused up to 2 years, napkin can be washed and reused up to one year    
How to wear
For using an UGER pad simply fold the wings around the crotch of a panty and close the buttons as seen in the picture. The plain white side of the pad is the is next your body and the colorful printed side below. There is an important reason why the insert napkin is kept white. The colour of the blood that is being discharged is visible on a white surface. If the discharge colours are yellow, green or pink – these indicate infection and the menstruator will need to see a doctor.
How to wash the Uger pad
Soak the pads and napkins in cold water, then use soap and wash them like one would wash other clothing. Do not use hot water. Hot water will 'fix' blood stains on the cloth, as blood is made up of proteins ! Do not use fabric conditioner. Conditioner will soften your pad and then it may not absorb well. Afterward hang in direct sun as shown.
Uger Panty liners
These are thin cotton pads, smaller in size. This is for all days when you think your period may start so that you feel comfortable. It is perfect too on those last days when there is minor spotting. They can also be used during days of more white discharge and also when you have to travel